BeneKids' Target According to the Regulations
To improve the education of children in Central-America by investing in Hotel Con Corazón.
The Main Features of the Current Plan
BeneKids' Objective and Activities to be Performed
Raise money to reach above target by organizing events and fundraisers and receiving donations. For an overview of the activities performed and to be performed, see the Events page.
How Income is Earned
Through donations and profits from events.
How Capital is Managed and Spent
The capital is managed on BeneKids' ABN AMRO Bank Account and is later invested into Hotel Con Corazón.
Current Policy Plan
For the upcoming 3 years (2023-2025), the goal is to raise €12000 yearly.
The Board Composition
For the current and past BeneKids Board Compositions, see the BeneKids Boards Page. Yearly, new board members are chosen from members of Student Association Comitas whom are students of Hotelschool The Hague.
Remuneration Policy
All BeneKids Board members participate on a voluntary basis.
Updated List of Performed Activities
For an updated list of performed activites, see the Events page.
Balance Sheet
Per 1 December 2021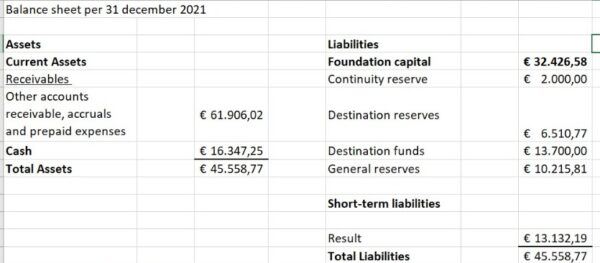 Explanation: The capital of the foundation resulted in €32.426,58 in 2021, this has been broken down into different reserves. The current assets outweigh the capital and liabilities resulting in an overflow result of €13.132,19 on the credit side.
Statement of Income
Profit and Loss Statement 2021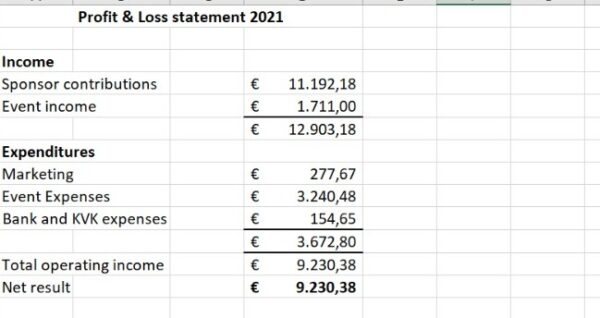 Explanation: Year 2021 has resulted in a positive balance of €9.230,38. The incomes are divided between sponsor contributions and event income. This years expenses are divided in marketing, event expenses and other expenses (which include e.g. bank expenses).